ECCO is the Environmental Computerized COntroller for EAGLE that automates the management of dew heaters during long exposures. It measures the temperature and humidity of the air and it calculates the dew point, the condition when dew condensates.
ECCO also measures the temperature of your objective lenses through a supplied probe and it calculates the necessary power that the dew heaters need to keep your lenses just above the dew point. This solution keeps the power absorbed by the dew heaters at a minimum. Also, non regulated power heaters could increase the temperature of your lenses a lot, causing undesired turbulence. 
Plug & Play functionality
To use ECCO with EAGLE:
Connect the temperature sensors to ECCO and close by your lens (2 probes provided)
Connect ECCO to EAGLE using the USB cable (provided)
In the EAGLE manager software, click on the connect icon to link ECCO to EAGLE
The Eagle Manager software allows you to monitor the dew point calculation
in real time
, the temperature detected by the temperature probes and the variation of the power supplied by the EAGLE to the dew heaters. ECCO does not require an external power supply!
EAGLE Manager, starting from version 2.0, supports ECCO with dew point calculation and automatic power control of dew heaters.
Very easy to install on your telescope

ECCO can be easily installed on any finder base like the Prima Luce Lab DX,  Celestron, SkyWatcher or GSO bases. Prima Luce Lab designed ECCO as an external module to avoid misreading. In fact, the weak heat generated by EAGLE could still affect the measure of air temperature and humidity. 
ECCO installed on AIRY refractor telescope, connected to the EAGLE with USB port and with 2 external temperature probes
ECCO installed on a Schmidt-Cassegrain telescope, connected to the EAGLE with USB port and with 2 external temperature probes
Great Prima Luce Lab design

ECCO is made by 6061 T6 aluminum and produced by using CNC machines. It can also be used as a finder scope base adding the optional "Finder support for ECCO".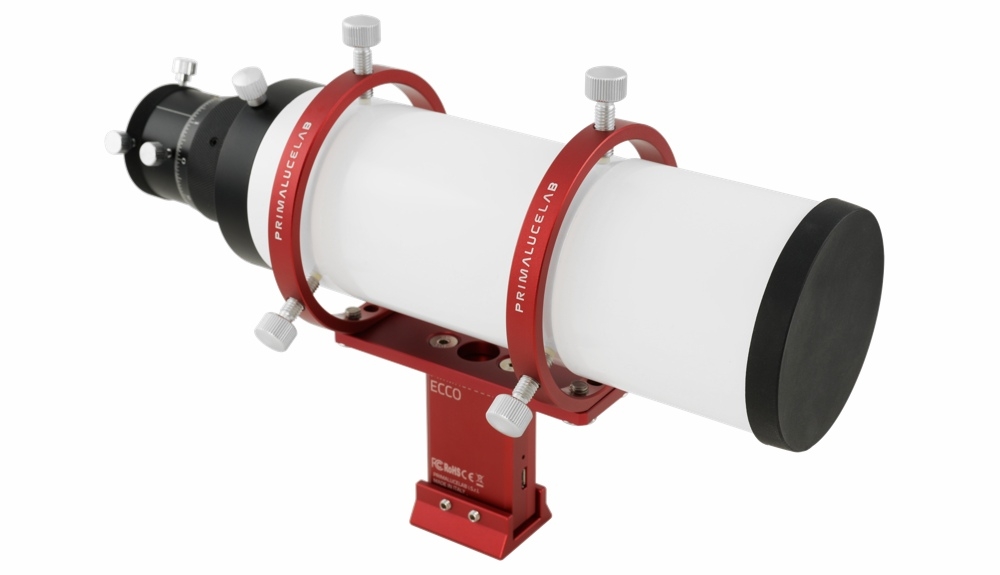 ECCO used together with the "Guide scope support for ECCO" .
ECCO with connection to finder shoe

2 temperature probes
micro USB cable